Susigames is an independent game art label founded in 2003, currently working as associated artists at ZKM, Germany. Susigames consists of 5 people from different disciplines including media arts, illustration, robotics and computer graphics. Their current aim is to research alternative, artistic approaches to well-known video game standards and cross boarders, such as:
– game installations
– real world player integration
– interface design
– realtime & realworld simulations
Further information can be found on the official page: susigames.com
Edgebomber
Envy, Love and Heroes
Rescue the kidnapped Suezee ICEQUEEN! Hero Ozkar and the black magic tapes becomes your best friends in virtual and real world.
Edgebomber breaks up the classic "ready-made"-gameconcepts. With support of special duct tapes, the player create their own levels and sketches to solve this game.
Edgebomber deals about user-generated content in games and his social expansion. Contrary to Duchamp, Edgebomber designs not readymades, sketches fixed into an unchanging form, but levels that are constantly ready-to-be-made.
Spontaneity and brevity are key to Edgebombers artistic vision, as is the idea of endless permutation and proliferation at the expense of a final, fixed form.
EdgeBomber is a "Pervasive Game", where the player uses tape, stickers and scissors to create their own playgrounds on a wall. The procedural system grabs the scenery and creates a virtual level for the jump'n'run video game, based on our game-engine "Z100". The grabbed playground is extended with items and enemies and is projected back to the original scenery. The augmented reality level is created, where our hero "Ozkar" has to resist the attacks of hubert, the flying sausages and the evil Tapeboy and more…
After playing Edgebomber, the gamer receives a special code to play and share the levels via Internet (aka Flashbomber).
EdgeBomber was developed in an artist's residency at the ZKM, Center for Art and Media in Karlsruhe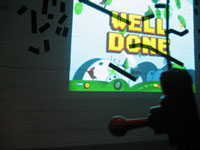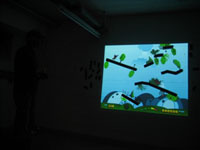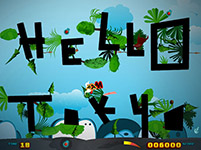 SusiVaders 360
Susicarts is a racing game played on the 360 degree hemispherical display that challanges your reactions as well as your fitness.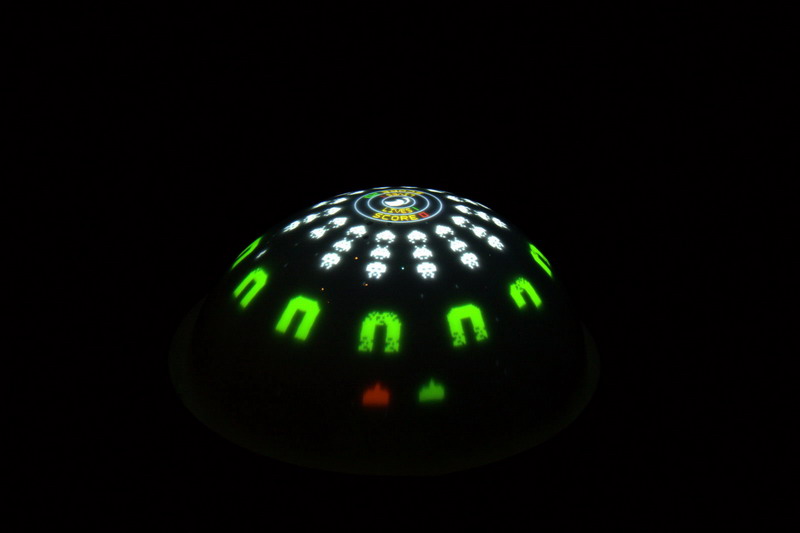 Susipong
Susipong extends the classical PONG match to a worldwide multiplayer game with up to four players. If the ball pongs out of your own field, it will be packed into an SMS an delivered to the according opponent. Network traffic and routing provide for unpredictable events in the course of the game. Even usual, non-game emails can produce extra-balls to intensify the game speed.